Cover Crop Demo Plots Map!

CCSI is working on a comprehensive, interactive map of all cover crop demo plots in Indiana. Click to fill out a spreadsheet with your demo plot's information. An example row is included in the first row in italics. Please make use decimal format for the latitude/longitude as it is most compatible with our map making program. Please send your completed spreadsheet to emily-neitzel@iaswcd.org to be included in the map.
Top resources for cover crop information:
Cover crops are crops grown between the regular crops like corn, soybean and wheat. Examples of cover crops are annual ryegrass, crimson clover, oats, oil-seed radishes, and cereal rye. Cover crops are grown for a variety of reasons:
Reducing soil compaction
Covering the soil to protect it from erosion by wind and water
Improving soil structure
Increasing soil organic matter
Fixing nitrogen
Scavenging nitrogen from the soil that would otherwise be lost to percolation, runoff or volatilization
Producing forage or pasture
The USDA Natural Resources Conservation Service (NRCS) released definitive guidance for a cover crop termination schedule. Download the report (PDF) here.
Agronomy Tech Notes
Fall Scouting and Treatment of Invasive and Herbicide Resistant Weeds
Terminating Cover Crops
Wet Spring Weather Cover Crops
Recommended Cover Crop Seeding Methods and Tools
Conservation Crop Rotations for Soil Quality and Soil Health
Agronomy Crib Notes Issue 15 – Herbicide Persistence for Cover Crops
Technical Notes -Conservation Cropping Rotations for Soil Health
**Updated Prevented Planning and Cover Crops information
Spring Cover Crops Management – Agronomy "Crib" Notes, May 2014
Numerous cover crop trials are being conducted across Indiana by private industry, NRCS, Purdue Extension and the CCSI. Midwest Cover Crop Council Resources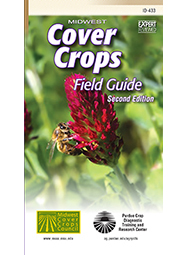 Other Cover Crop Resources: Why Cover Crops After Drought? The drought of 2012 was the worst in many decades and will result in poor crop yields or crop failures across wide areas of Indiana and the Midwest in general. Besides the obvious impacts on crop yields, there are other effects of the drought that farmers should consider as they look ahead to this fall and next season. Fall-planted cover crops would be a good investment for many farmers this year, to benefit both their own farms and regional water quality. Learn More
NRCS Cover Crop Termination Guidelines – Second Revision: This second revision modifies the rules for grazing a cover crop, adds a definition of a cover crop, and defines when a cover crop is considered terminated. Read more in this NSAC blog.
Cover Crops for Prevented Planting Acres (Purdue publication)
Cover Crops for Pollinators and Beneficials
Cover Crops for Prevented Planted Fields
Prevented Planting and Cover Crops
Integrating Cover Crops in Soybean Rotations
Excessive rainfall and prolonged ponding conditions this spring have resulted in many fields remaining unplanted to corn or soybeans this season. These "prevented planting" acres, while unfortunate for this year's production, should be managed in ways to prevent further soil degradation and to increase soil productivity for next year. Cover crops are an excellent option for producers to consider for protecting their soil and increasing productive capacity for succeeding years. This article briefly describes the benefits of growing cover crops compared to leaving the soil bare and fallow, and then it provides guidance on selecting and seeding cover crops for prevented planting acres.